Become a Judge
The 2023 La Jolla Concours d'Elegance Judges
NIGEL MATTHEWS
Chief Judge
Originally from Oxfordshire, England. Nigel has enjoyed the past 48 years living in Vancouver, British Columbia where he worked as a Red Seal licensed automotive technician repairing and restoring Rolls-Royce and Ferrari automobiles.
The past 28 years of his 50-year automotive career has been in the classic and exotic car insurance industry as a specialty vehicle damage appraiser, underwriter and ten years as the Administrator of the British Columbia provincial government collector and vintage vehicle licensing and insurance programs. He is currently the Global Brand Ambassador for Hagerty
He wrote a weekly classic car column in the Canadian press from 2003 until 2014.
Nigel is a founding member of ICJAG and the current Chairman. He has judged at a total of 123 Concours events worldwide over the past 20 years, including Pebble Beach since 2005 and more recently at Villa d'Este. He has been the Chief judge at 32 Concours.
Chris Kramer
Assistant Chief Judge – Field Operations
Christian (Chris) H. Kramer grew up with cars and cannot imagine a life without cars. After serving in the German Air Force and owning a computer service company, Chris turned his passion and hobby into his profession. Chris has been working in the automotive industry for over thirty years and for about 25 years as a Classic Car Consultant, Restoration Supervisor, Value Appraiser, FIVA Scrutineer and advises collectors all over the world. Chris is an ICJAG charter member and director of Technologies. He is a special advisor and member of the Selecting Committee for the Concorso d'Eleganza Villa d'Este and judging advisor to the FIVA events commission. Chris is the Chief Judge for the 21 Gun Salute Concours in India and the Lugano Elegance in Switzerland. He judges frequently at major events all over the world including the Pebble Beach Concours d'Elegance, The Amelia, Cavallino Classic (US and Italy), The Audrain, Salon Prive and the Greenwich Concours d'Elegance and of course at LaJolla. His core expertise and passion is European Sports cars Pre- and Post war.
Dr. William Guentzler
Chief Class Judge
Dr. Guentzler is a Professor Emeritus from the College of Engineering at San Diego State University and President of Forensics International, an expert witness service for attorneys.  He has judged numerous car events over the last 35 years while his other company, Motorsports International, is well known for its expert European restorations.
Allan McCrary
Chief Class Judge
Allan McCrary has been a member of the Auburn Cord Duesenberg since 1974 serving on it's Board of Directors, as President and is currently National Chief Judge where he has been instrumental in developing revised judging standards that focus on authenticity.
In addition he is a Class Judge (Duesenberg) for the Pebble Beach Concours, Assistant Chief Judge, San Marino Motor Classic and is on the advisory Board for the Serrano Concours. He is a Classic Car Club of America Accredited Judge and a member of the American Bugatti Club, Aston Martin Owners Club, Jaguar Club of North America and the Antique Automobile Club of America.
He has participated as a class judge for over 30 years at numerous Concours to include Amelia Island, Hillsborough, Palo Alto, Kirkland, Forest Grove and Boca Raton.  He lives in Northern California where maintains an eclectic collection covering a wide area of interest, Classics, British and German Sports cars and American Luxury cars and is a frequent participant in tours, concours as well as the annual Goodwood Revival in the United Kingdom.
Richard Adatto
Chief Class Judge
Richard Adatto is a world-renowned expert on French aerodynamic cars and European custom coachwork. A technical advisor to the Classic Car Club in America and a correspondent to the Delahaye Club of France, he has been a chief class judge at numerous concours d'elégance around the world, including the Chantilly Arts & Elégance near Paris, the Salon Privé Concours d'Elégance in London, and the Pebble Beach Concours d'Elégance. Richard is an international prize-winning author of automotive books and contributor to multiple magazines, automobile videos, and journals.
John Milliken
Chief Class Judge
John is a lifelong car enthusiast, collector, restorer, author and historian.  Over the course of fifty years, he has meticulously restored over forty cars and written scores of articles published in vintage car and club magazines.
He is a retired Delta Airlines Captain, having flown international and domestic routes for twenty-eight years.  Prior to flying in the private sector John served for 14 years in the US Air Force, including two tours in Viet Nam as a pilot.  In addition to restorations, John has a long history of being involved in the car hobby and presently is a member of the National Board of the Classic Car Club of America (CCCA).  He has served as Chief Judge for two Annual Meetings of the CCCA and is a member of the International Chief Judge Advisory Committee (ICJAG) involved in the standardization of judging procedures worldwide.  John has also been Chief Judge for the Santa Barbara Concours, Palm Springs Concours and, for the past five years the Chief Judge for the San Marino Motor Classic.  He has also ventured to India in 2020 and 2023 to judge Asia's largest Concours, the 21 Gun Salute and Rally.
Malcolm Welford
Chief Class Judge
Malcolm has been involved with classic and sports cars all his life, having grown up watching motorsport in England during the 1960s. Circuits like Goodwood, Oulton Park, and Brands Hatch are all familiar favorites. In 1995, he joined Christie's auction house as a Senior Specialist and then Head of Department in their Classic Car Department in London before relocating to the Christie's Beverly Hills offices. He has previously judged at The Hurlingham Club Concours in London and the Louis Vuitton Concours at Bagatelle, Paris.
Malcolm and business partner Miles Morris subsequently co-founded Morris & Welford as specialist collector car brokers, renamed MM Garage.
He is appointed to the FIVA Technical Commission Working Group and is an official FIVA inspector and examiner. His passion extends across the board and is wide-ranging, but with a particular soft spot for the early Anglo-American Shelby Cobra, having taken his own car on the demanding Tour Auto event in France.
Hugo Modderman
Chief Class Judge
Hugo's hobbies are photography and veteran and vintage cars. He participated for the first time in a car rally in 1956, the year in which the PAC (Dutch pioneer automobile club) was founded as his father just happened to have kept a Lancia Lambda, which the German occupier was not interested to confiscate during the war. This was the seed for a long career in restoring and driving cars from a 1904 Gardner Serpollet to a 1982 Lancia Gamma. Hugo's principal interest lies in cars between 1925 and 1935, focusing on Italian machinery, but he also has a 1933 Horch straight 8 under restoration. Hugo is an ICJAG judge and has judged at Pebble Beach, Palace Het Loo, Salon Prive, Geneva, La Jolla and Schloss Dyck Concours and is a regular participant in the Pebble Beach Motoring Classic, not to mention a number of Mille Miglia's in his Alfa 1750 GS Touring.
Gordon Clark
Chief Class Judge
Gordon Clark was born in Ely, Nevada in 1939. He had multiple careers and interests over the years, including 20 years with the U.S. Navy, and 30 years as an Air Traffic Controller with the Department of Defense. He also liked to expand his mind and obtained degrees in education, business, art history, and aviation sciences.
Vintage Motorcycles are Gordon's hobby. He searches for interesting models, restoring some and leaving others as-is for their patina. Currently, he has 18 motorcycles in his collection. Taking long-distance trips on motorcycles and riding with friends are two more benefits of his passion.
Gordon is a member and past President of the San Diego Antique Motorcycle Club and is excited about his sixth year as a judge at the La Jolla Concours d'Elegance.
Mike Haynes
Chief Class Judge
Mike Haynes was born in Newhaven, Sussex, England. He has 50 plus years of experience in restoring primarily European cars in England and the United States. His passion is racing his Cortina's.
John J. Hernandez
Chief Class Judge
Born in San Diego in 1951 raised a family until 2007 when the call of the mountains enticed him away to Dolores, Colorado that year for some peace & quiet.  Has taken on many new ventures in Colorado including sitting on the County Planning & Zoning Commission as Vice-Chair.
Active member of the North County Corvette Club in 1978 where he met John J. Sunda and started J&J Super Sixty Chevys, specializing in Corvette restorations.  Co-chaired the "Plastic Fantastic" Corvette Car Show in 1979.
Served as Assistant Chief Judge to Dr. Cy Conrad for shows in Palm Springs and the La Jolla Concours for 5 years.  Served as both Judge and Team Lead for La Jolla Concours 12 years.
Served as Chief Judge for the Deer Park Concours and Palm Springs Concours for 4 years.
Served as Honorary Judge for the Cars & Colors Corvette Rally in Telluride, CO in 2022
Served as Honorary Judge and Team Lead for the Las Vegas Concours.
Have been judging various classes in various Concours Shows for over 40 years.
Restores Husqvarna Motorcycles now, says they take less room.
Darwin Ludi
Chief Class Judge
Darwin Ludi has been an American Muscle Car and Corvette enthusiast for over 55 years. Darwin is a Life Member of the National Corvette Museum, National Corvette Restores Society, Bloomington Gold.  In addition, Darwin has been a judge for the GTO Association of America at its National Conventions. Darwin has owned muscles cars from the 60's and 70's including those made by Plymouth, Chevrolet and Pontiac. Most recently Darwin became a member of the Antique Automobile Club of America.  Darwin owes his involvement in the La Jolla Concours d' Elegance event to Dr. Cy Conrad who invited him to judge the event over the past several years. In his spare time, Darwin serves as a counselor at both the California and New Mexico State American Legion Boys State sessions.  A Navy veteran supporting future leaders.
Harry Clark
Chief Class Judge
Harry was honored to be elected and serve for two terms on the National Board of Directors of the Classic Car Club of America (CCCA). As a National Board member, Harry was frequently selected to judge the Preservation Class automobiles. He was also active in the development of the processes for judging Preservation Classes. Harry is a Master Judge with the CCCA. As a CCCA Master Judge, he has participated as the Chief Class Judge at concours events throughout North America. For ten years Harry was responsible for the Pebble Beach Concours awards ceremony as the "Ramp Guy". He was also responsible for the development of the children's judging program for Packard's International which is still actively used today.
For over twenty years he has participated at the top levels of the Classic Car hobby. He has a special affinity to CCCA Full Classics and has collected and enjoyed marques such as Packard, Rolls-Royce, Bentley, Bugatti, Alfa Romeo, Pierce Arrow and Cadillac. His classics have been shown at the Pebble Beach Concours, at the Amelia Island Concours, and about over a dozen other concours events throughout North America.
Jim Perell
Chief Class Judge
Jim's involvement in the world of motorcars ranges back to his childhood, growing up in the Southern California area of Pacific Palisades and Malibu. He has judged at multiple Concours d'Elegance events since 2002 and presently functions as the Chief of Concours for SCCA -SFR (San Francisco region); overseeing between 3-6 concours events annually. He served on the Board of Directors for the California Automotive Museum, as well as judging at events such as the Concours on the Avenue – Carmel, Hillsborough Concours, San Francisco Concours, Danville Concours, Serrano Concours, San Marino Concours, La Jolla Concours and others. He has held the position as a Chief Class Judge for over 13 years.
As stated, Jim's initiation commenced in his youth remembering the date of January 4th, 1956, Jim's true automotive passion was born on that day as his father purchased from Charles Hornburg, in Santa Monica, a brand new '56 Jaguar 140 DHC; still in Jim's collection today. That purchase and his Father's constant tinkering hooked him into a "car guy" for life.He spent hours watching his father wrenching on MG TC's and such. He would assist in handing over tools and as such became a competent mechanic and today a restorer of vintage post-war British Sportscars.
His background is diversified in as much Jim has shown his 1967 MGB and multiple concours events resulting in 14 First Place wins. His affinity and heart leans towards the vintage and classic British motorcars, but he has also, since 1961, driven, owned, restored and collected countless numbers of collector cars, including the big early years of American Steele from the '40's and 50's.
Raoul E. San Giorgi
Chief Class Judge
Raoul E. San Giorgi is a lifelong car enthusiast. He bought his first car at the age of 15, a bit unusual in Europe at the time… After finishing his career in banking and stockbroking, he fully concentrated on living his passion for vintage cars  . For the Louwman Museum in the Netherlands, he was responsible for the restoration of many true world-class cars. The Milligen SSK, the Pegaso Cuppula , Maserati 300S , Lancia D23 , Alfa Romeo 8C 2900 , to just name a few . He oversees restorations for a handful of collectors, mostly of Italian cars. He is hands-on, which means a very good mix of academic and practical knowledge when it comes to the understanding of classic cars.
He judges around the globe . India, Japan, Switzerland, Germany, England, and the USA, most notably at Pebble Beach. He is a member of ICJAG and the RIAR.
Leslie Steven Burd
Chief Class Judge
Advisory group member: International Chief  Judges Advisory Group (ICJAG)
Concours Judge: Pebble Beach and selected prominent Concours in North America,28 years' experience
Professional engine building and restoration: Epifani Restorations of Berkeley California and private clients 20 years' experience.
Les has been involved in the old car hobby for almost his whole life. His passion has been postwar Italian cars since the age of ten when he was coaxed into helping his father restore a very tired SIATA. In 1992 he personally restored a car for the Pebble Beach Concours where it won a class award. Over the years he has shown 3 cars at Pebble Beach.  In 1993 Les was invited back to Pebble Beach as a Judge where he has served for 28 years. More recently he has served in various judging capacities at the San Marino Concours, the Arizona Concours, the Cobble Beach Concours, the Boca Raton and others. Les is also on the board of advisers for the NADA Classic guide.
After a career in Public Health, he began working as a professional engine builder at Epifani Restorations in Berkeley, Ca where he worked for a decade specializing in the unique Abarth Bialbero engines as well as many others.
Les maintains a full home machine shop to work on his own projects in his spare time.
Dirk McBurnie
Chief Class Judge
Growing up tuning weber and solex carburetors it was natural for me to fall in love with porsches and jaguars. After starting my own business restoring Porsches and Jaguars, I have been a concours judge for ten years with a background in German (predominantly Porsches) and British cars when it comes to restoration. With an extensive background in manufacturing, I have experience in prototyping such as the bre aerovault and various aerospace products and am now restoring cars along with creating an electric powerplant system. Some hobbies are scuba diving, restorations, metal working, and product development with regards to additive manufacturing, 3d design, cnc machining, and composites.
Christopher Dugan
Chief Class Judge
Christopher Dugan is the owner of Dugan Enterprises LLC, a San Diego based vintage car restoration facility that specializes in Ferrari and Lamborghini vehicles.  Mr. Dugan has been devoted to the vintage car world since the early age of nineteen when he first started as a Ferrari mechanics apprentice.  In 2004 Mr. Dugan made the leap to start his own company based in the north county San Diego area, where he partnered with the Wisconsin based Motion Products Inc.  Years later in 2013 Dugan Enterprises LLC was formed where Mr. Dugan has curated an incredibly talented team that today produces some amazing Ferrari and Lamborghini restoration work.  Dugan Enterprises is proud to have restored many vehicles that have won multiple awards in various exclusive events across the country including the Pebble Beach Concours and the Cavallino Classic.  Mr. Dugan has another passion to carry on the legacy of so many Ferrari judges that have dedicated their lives to create the guidelines for how we judge today.  Mr. Dugan is a member of the IAC/PFA and is a Cavallino Classic judge, as well as a Ferrari National event judge, and for the past many years Mr. Dugan has also been a dedicated judge and supporter of his hometown event, the LaJolla Concours.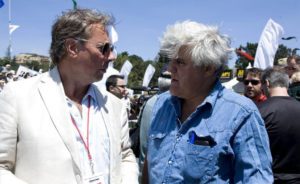 Gary Bobileff
Chief Class Judge
Gary Bobileff has been judging Concours since 1980.  He, and his Company, based here in San Diego, Bobileff Motorcar Company, has also restored Ferrari, Lamborghini and Maserati cars that have won top awards at Pebble Beach Concours, Villa D'Este, and the Ferrari Nationals, as well as many other Concours, over the past 40 years.
Dr. Cy Conrad
CHIEF JUDGE EMERITUS
We are honored that Dr. Cy Conrad was invited to judge at the 2014 Pebble Beach Concours d'Elegance. Dr. Cy Conrad has been judging concours for approximately 46 years, the last 36 years as Chief Judge, at many different shows. Initially, Dr. Conrad served as the Chief Judge for the Deer Park Concours. His reputation led to being invited to serve as the Chief Judge for Palm Springs, Palm Desert, Rancho Mirage, San Diego Auto Museum, Le Cercle (Los Angeles/ Beverly Hills), Rancho Santa Fe, visiting guest Chief Judge for the Bentley Drivers Club Concours in London, England, Del Mar, and the La Jolla Motor Car Classic, (now the La Jolla Concours d'Elegance). Further, he was a guest seminar presenter and Chief Judge for the Reno (Nevada) Hot August Nights for several years.
Dr. Conrad has authored articles on Concours and Judging for several magazines including a column entitled "Conrad's Comments" for Collector Car New; articles for Auto Afficiado, the Bentley Drivers Club Newsletter; The Rolls-Royce Owners Club and Silver Coast News. In addition, he has created & presented Judging Seminars and Pre-Judging Seminars on Concours judging. Dr. Conrad has written a Concours judging handbook that has been fully embraced by Concours judges everywhere, including Ed Gilbertson of the Pebble Beach Concours.
Ed Gilbertson
Chief Honorary Judge
Ed Gilbertson is Chairman of the International Chief Judge Advisory Group (ICJAG) overseeing the judging for more than fifty shows across the world.  He is President of the Jury for the Salon Prive Concours d'Elegance and is Chief Judge Emeritus for the Pebble Beach Concours d'Elegance, Palm Beach Cavallino Classic, and the Ferrari Club of America.  He continues to serve Pebble Beach as an honorary judge and senior member of the selection committee.
He is founder and Chairman Emeritus of the International Advisory Council for Preservation of the Ferrari Automobile (IAC/PFA) and is a senior advisor and committee member for the Federation Internationale Vehicules Anciens (FIVA) technical commission and the North American Historic Vehicle Association (HVA).  He is also a member of the SAE Historic Vehicle Technical Standards Committee.
Mr. Gilbertson was Chief Judge for the famed FF40 concours in Brussels and Honorary Chief Judge for both the 60th Anniversary and 70th Anniversary of Ferrari in Maranello, Italy.  He also judged at the Louis Vuitton shows in London and Paris and was Chief Judge for the International Legend of the Motorcycle Concours, as well as judging at many other national and international shows.
In addition to their concours activities, he and his wife Sherry have helped organize international reunion tours for the Ferrari 166MM, Ferrari 250 Testa Rossa, Ferrari 250 GTO, and Alfa Romeo 8C.  They have also organized ten multi-marque driving tours. Ed is a former Regional Director for the Ferrari Club of America and past President of the Ferrari Owners Club.
He is a contributing editor for Cavallino magazine and co-authored a book on the Ferrari 250GT Spyder California.  He was also a contributing author for The Stewardship of Historically Important Automobiles awarded the International Historic Motoring Award for best automobile publication in 2013.
Ed has three degrees and is a retired engineer and professional money manager.  He is also a retired USAF reserve officer.  He and Sherry married 48 years have owned many significant sports cars, hot rods and motorcycles.  When not assisting with events, they can often be found enjoying their vehicles on the backroads of California.
Lee Daub
Assistant Chief Judge – Field Operations
Lee Daub has had a lifetime love affair with the automobile, from pre-war Silver Arrows to Detroit Muscle.  Having been involved in the La Jolla Concours d'Elegance since 2008, Lee looks forward to the amazing occasion every year.
Ed Winkler
Special Awards Liason
Automobiles have been an integral part of Ed Winkler's life since he was a young child when in 1955, a black, MG/TC passed his home in Wilmington, Delaware; he fell in love.  He began attending car shows in the late 1950's and by 1961 was building his own hot rod.  Ed currently has eight cars in his collection dating from 1932 – 2021.  He finds automobiles to be a reflection of our cultures, past and present and truekinetic art representing the freedom of the American spirit.
Automobile Club Memberships
1970 to present: National Nomad Association/Chevrolet Nomad Association
1975 to present: MG Car Clubs, Houston and Phoenix
1976 to present: American Motors Owners Association, National & Local
2000 to present: Corvette Restorers Society (NCRS), National & Local
2000 to present: Solid Axle Corvette Club of America, National & Local
2005 to present: Classic Car Club of America, National & Local
(Arizona CCCA Regional Director 2012-14)
2017 to present: Goodguys Rod & Custom Association
2019 to present: Mopars Unlimited of Arizona
2020 to present: Antique Automobile Club of America, National
2020 to present: Plymouth Owners Association
Concours Related Experience
2004 to current: Founder & Chairman, Paradise Valley Veterans' Car Show
2013 to present: Co-founder and Director, Arizona Concours d'Elegance
2017 to 2022: Class, Judge Cobble Beach Concours
2019: Class Judge, Las Vegas Concours
2020: Class Judge, Miami Concours
Ed is very proficient in Post War Domestic vehicles to 25 years and specializes in Production vehicles of the 30's 40's 50's & 60's  along with American CCCA vehicles
Thank you for your interest in becoming a judge at the prestigious La Jolla Concours d'Elegance. We have filled all available positions. We look forward to seeing you at the Concours and come back next year when the 2024 applications open.